Check out my Facebook page
Monday Afternoon Drawing is ONLINE!
Wednesday Night Watercolour is ONLINE! 
Friday morning and Afternoon Watercolour is in person!
semi private mixed media tuesday afternoons in person
YOU can join drawing or watercolour class in a private facebook group
or in person watercolour Friday MORNING (beginners) or Friday afternoon
Mixed Media, Kids Art, Bob Ross Workshops & Kids Make -It -Take -It Workshops have All
been postponed until further notice

Check out my Facebook Business page
ART Cards ARE AVAILABLE!
Pick up your favourite art cards to frame, send to someone special or give a set as a unique gift!
High quality original art prints with envelopes. $3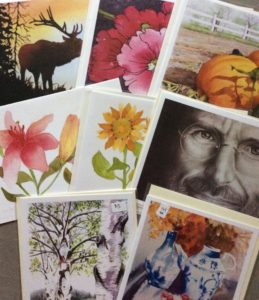 NEW! Make it -take it WORKSHOPs for kids
Make It Take It Workshops will be held one Friday /month from 6-8pm.
For children 7-14 years of age. Workshop fee $15 + supplies . (paints are supplied)
Pre-registration/payment is required. Check "Kids Art Classes" for more information.
register for Fall Classes today!
Check dates and time for individual classes